Welcome to the website of Holy Rood and Our Lady & St James parishes.
Roman Catholic Diocese of Hallam
Booking system for Mass at Holy Rood and Our Lady & St James now open.
If your first choice of weekend Mass in one of our churches is fully booked,
please consider booking at the other church or one of the
three alternative dates available.

Holy Rood and Our Lady & 
St James churches have both registered as part of the government's Covid-19 contact-tracing app launched on September 24th.

Those parishioners with a mobile phone who have downloaded the app will be able to scan the QR code on entry to either church to register visits. 
Live streaming of Masses from Holy Rood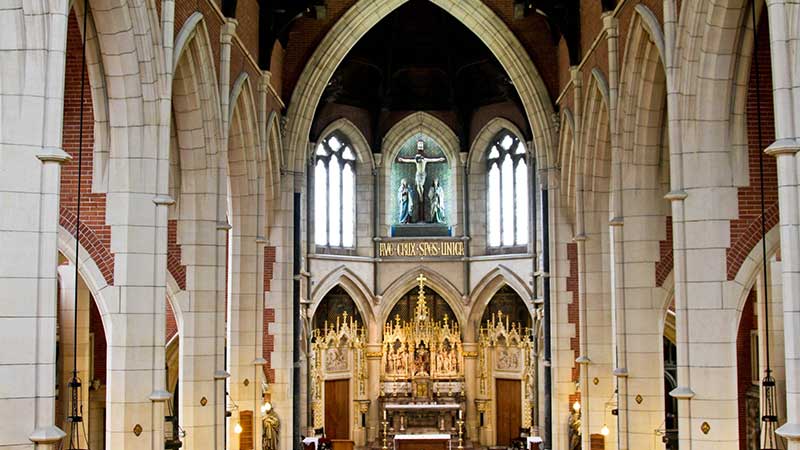 Mass will be live streamed from Holy Rood at
10 am on Sundays and 12noon on Wednesdays.
Please note: to comply with General Data Protection Regulations, images of the congregation will not be broadcast, and the camera will be adjusted for Holy Communion to ensure the images of those receiving Communion will not be shown. The audio is a direct link from Fr Damian's throat microphone and, other than general responses, the voices of individual members of the congregation will not be heard.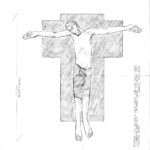 The nationally acclaimed York sculptor Charles Gurrey has produced a unique Hanging Rood Cross design for Our Lady & St James' church. The Cross, which is in memory of Eileen and Hedley Slack, would be suspended from the roof of the chancel, above the altar.
To view this design and discover more about Charles Gurrey and his ideas for this particular design click here.
for historical information about the churches click on the picture.
Click on the  PARISH BULLETIN for details of Mass times and other parish events.
click here For Barnsley Deanery Parish Boundaries
The website www.ChurchPaper.co.uk, contains over 600 editions of many UK Catholic Diocesan newspaper, including the Hallam News, with more papers expected to follow shortly.
The government has published guidance for places of  worship in Covid-19 High Risk Areas. Click here to see how this guidance impacts on our churches.