Welcome to the website of Holy Rood and Our Lady & St James parishes.
Roman Catholic Diocese of Hallam
When the first 'lockdown' began, the Catholic Bishops of England & Wales removed the Sunday obligation of attending Mass. This still applies – there is no obligation upon Catholics to attend Mass on a Sunday in these current circumstances.
Until 24th April public worship will be restricted to one Mass per week.
This will be at Holy Rood at 10am each Sunday morning and will be live streamed through the Catholic Barnsley YouTube Channel  (see below).
Public worship at Our Lady & St James will recommence each Saturday from
24th April at 6.00pm.
If your first choice of Mass in one of our churches is fully booked, please consider booking at the other church or one of the alternative dates available


To reserve a space at Mass please click here
Live streaming of Masses from Holy Rood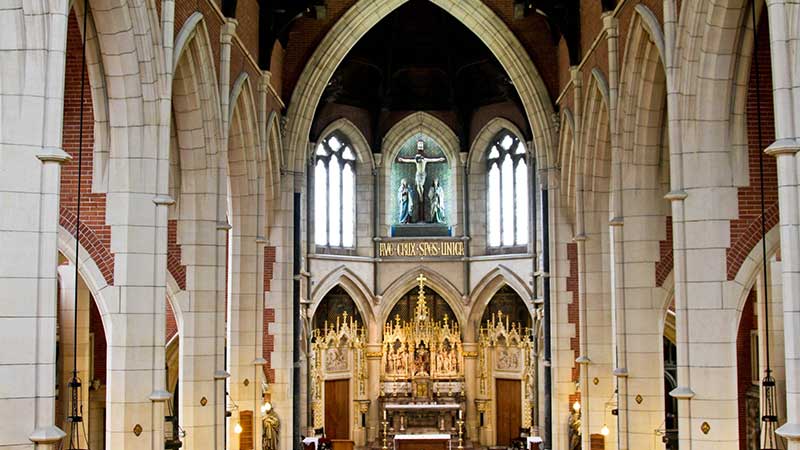 Mass will be live streamed from Holy Rood at
10am each Sunday.
for historical information about the churches click on the picture.
Click on the  PARISH BULLETIN for details of Mass times and other parish events.
The website www.ChurchPaper.co.uk, contains over 600 editions of many UK Catholic Diocesan newspaper, including the Hallam News, with more papers expected to follow shortly.
The government has published guidance for places of  worship in Covid-19 High Risk Areas. Click here to see how this guidance impacts on our churches.
The Catholic position on vaccination
This paper will aim to provide clarity and assurances to Catholics about Church teaching and moral issues regarding vaccination. It will demonstrate the Church's support for vaccination to protect the most vulnerable of our society, especially those affected by immunodeficiency, pregnant women and their unborn children. Finally, it will address concerns regarding the development of future vaccines, including those regarding the Church's teaching on vaccination raised by Catholics during the Covid-19 pandemic.